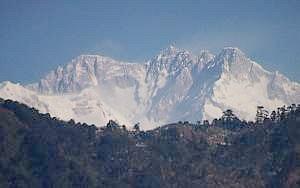 Kanchenjunga, in northeastern Nepal on the border with China, is the third-highest peak in the world. The Taplejung district is in that region.
Statement from David Sheppard

Head, IUCN Programme on Protected Areas and Nik Lopoukhine
Chair, World Commission on Protected Areas

25 September 2006
It is with great sadness that we advise that a number of key conservation leaders have died in a helicopter crash in Nepal. Seven WWF staff from its offices in Nepal, the UK and the US, were on board, as were as high-ranking government officials, representatives of other agencies, journalists and Russian crew members. More information on this tragedy is available on the WWF website. Amongst those killed were 3 WCPA Members: Chandra Gurung, Country Repre-
sentative, Asia Pacific Programme, WWF, Nepal Mingma Sherpa, Managing Director, EHEC, WWF US Narayan Poudel, Director General of the Department of National Parks and Wildlife Conservation, Nepal We are sure that all WCPA Members and the whole conservation community will join with us in offering our sincere condolences to the family and loved ones of all who were killed in this tragic accident.
Statement from Dr. Lawrence Hamilton
Senior Senior Advisor, Mountain Biome
World Commission on Protected Areas/IUCN
Statement from Dr. J. Gabriel Campbell
Director General, International Centre for Integrated Mountain Development (ICIMOD) & Chairperson,
The Mountain Forum
Statement from the Executive and Members of the IUCN WCPA Mountains Biome
Statement from the UIAA - Union Internationale des Association d'Alpinisme
International Mountaineering and Climbing Federation
Right: Dr Chandra Gurung, Country Representative, Asia Pacific Programme, WWF Nepal, at a meeting February 2006 on the Gold Coast of Queensland, Australia. Photo by Hum Gurung

Dr Chandra Gurung, Vice Chair, Mountains Biome (far left); Graeme Worboys, and mountain hiking party, Lamington National Park, Central Eastern Rainforest Reserve World Heritage Area, Queensland Australia, February 2006. Photo by Hum Gurun




Audio tribute to Mingma Sherpa, Managing Director WWFUS, on America's National Public Radio:

Mingma Sherpa, a Giant of Conservation

Left: Mingma speaking at the 2004 Conference on Mountain Corridors at Banff, Canada. Photo by Graeme Worboys

Mingma (front row, right) carried the Nepali flag with our group to the summit of Sentinel Peak in the Drakensberg Mountains of South Africa before attending the 5th World Parks Congress in Durban.

Narayan Prasad Poudel was Director General of the Nepalese Department of National Parks and Wildlife Conservation. He received Bachelor's and Master's Degrees in botany from universities in the USA.
News Updates
BBC News
25 September 2006
A conservation catastrophe for Nepal
The death of all 24 people on board a WWF helicopter which crashed in eastern Nepal is a human tragedy and also a catastrophe for Nepal, which has lost a starry line-up of internationally renowned conservationists. In the words of Gabriel Campbell, an American conservationist based here: "It would be almost impossible to assemble a more remarkable group of conservationists and Himalayan scholars - pioneers in helping local people understand and conserve their natural resources." ...more
Nepal News.com
25 September 2006
Sri Airlines chopper crash: A national tragedy
It was a national tragedy when the country lost noted nature conservationists, senior officials of the Ministry of Forest and Soil Conservation and Kathmandu-based foreign missions in one of the deadliest crashes in Nepalese aviation history, which was officially confirmed after three days, on Monday...more
Bloomberg News--Nepal Searchers Find WWF Helicopter With No Survivors
25 September 2006
"It has been found near the helicopter departure point,'' Mohan Adhikari, director general of Nepal's Civil Aviation Authority, said in a telephone interview from Kathmandu. ``It appears that the primary factor for the crash has been the weather. The weather was too bad.''....more
Helicopter Tragedy - a message from WWF's Director General
25 September 2006
Today has been a terrible day for those of us at WWF, for Nepal, and for conservation around the world. We at WWF have lost seven of our colleagues, our friends, in a helicopter crash in Ghunsa, Nepal. These were people who had dedicated their lives to conserving the extraordinary natural resources of Nepal and the Earth. Their deaths are a huge blow....more
World Conservation Union Mourns Helicopter Crash Victims
25 September 2006
The World Conservation Union (IUCN) today is mourning the victims of the helicopter crash in Nepal. The helicopter was returning from an inauguration ceremony to hand over management of the Kangchenjunga conservation area to local communities. ....more
Reuters--Nepal steps up search for missing copter
24 September 2006
KATHMANDU: Rescue teams in Nepal stepped up their search for a helicopter chartered by the World Wildlife Fund with 24 people on board after it went missing during bad weather, officials said on Sunday. The Russian-built MI-17 helicopter disappeared on Saturday in Taplejung district, a remote mountainous area 300 km east of the capital, Kathmandu, after losing radio contact. Among those aboard were a senior United States aid official, a Finnish diplomat and a Nepalese minister. Army and civilian helicopters and ground rescue teams began combing the forested hills. The aircraft was carrying seven foreigners and 17 Nepalese nationals. ....more