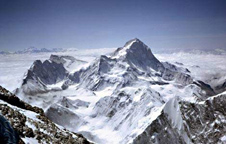 From Dr. J. Gabriel Campbell
Director General, International Centre for Integrated Mountain Development (ICIMOD) & Chairperson, The Mountain Forum
Tribute to the Great Conservationists of Nepal
Memorial Service 28.9.06 Kathmandu, Nepal
Narayan Poudel was instrumental in establishing Makalu-Barun National Park, which includes the 5th highest peak in the world, Makalu, seen here from the summit of Chomolungma (Mount Everes
Friends, colleagues and all those who knew or admired those whose loss we mourn today,
On behalf of the staff, Board of Governors, and partners of ICIMOD and the Mountain Forum from throughout the greater Himalayan region and the whole mountain world, I have the saddest duty to express our heartfelt condolences to their families, their colleagues, their friends, and all the rest of you.
We are overwhelmed by the enormity of this loss. That so many beautiful souls, so many great minds, so many generous hearts, so many friends could go at one time is still not possible to believe. Our sorrow joins all of yours. Our loss, small compared to the loss experienced by the closest family and friends, is still so large that we understand darkly the huge holes that have been created in your lives. We assure you that we are here for you, to support you in any way possible.
The outstanding contributions of these individuals stand as tall as the sacred Himalaya they worked so hard to document, conserve and celebrate. Many of them were born of these mountains, sons and daughters of this soil. Others came to join in helping mountain peoples' improve their lives and nurture their magnificent landscapes, plants and animals. All of them contributed far more than most of us could imagine to bringing new understandings, new approaches for empowering local peoples, new science, creative models, and the financial and administrative support without which their ideas could not have been turned into reality.
They leave us a legacy that will live on and on beyond our lives. They leave us a challenge: how can we carry on their mission of understanding and conserving the dynamic intricate ecosystems that make up the Himalaya and adjoining plains; of understanding and empowering local people and supporting them with appropriate policies and programmes so that it is local people who stand as our guardians?
The people we honor today had that ability to radically alter our ideas and change the way we think.
Thanks to Dr. Harka Gurung, we now view the map of Nepal and see the wealth of ethnic and linguistic diversity, the janjatis and dalits, who have been for so long hidden.
Thanks to Dr. Chandra Gurung, and Mr. Mingma Sherpa and their colleagues, we have new models of community based conservation and tourism; new models of landscape conservation.
Thanks to Dr. Tirtha Man Maskey, Mr. Narayan Poudel, Dr. Damodar Parajuli, and Mr. Sharad Rai and their colleagues - working under the guidance of Ministers such as the Honorable Mr. Gopal Rai - we have new models of national parks, new ways of protecting species, new forms of community management. Where the forest and parks department officials and local people used to distrust and dislike each other - they helped create new friendships between foresters, conservationists and local communities. Communities so ably represented by local leaders such as Mr. Dawa Tsering Sherpa.
Thanks to visionary and compassionate donor representatives such as Pauli Mustonen of the Finish Embassy, Margaret Alexander and Dr. Bignan Acharya of USAID and their colleagues, the WWF US and UK through committed officials like Dr. Jill Bowling, Ms. Jennifer Headley, and Mr. Mathew Preece, these towering leaders were able to translate their visions into reality. Dedicated conservation media persons Yeshi Lama, Hem Raj Bhandari and Sunil Kumar Singh were the translators - the ones who shared this wonderful work with the rest of us.
From ICIMOD's perspective, these people and their organizations are partners in a number of our programmes and projects. The Sacred Himalayan Landscape. Trans- Boundary Biodiversity Conservation with India and Bhutan and China. Regional projects for Himalayan high altitude wetlands and community based rangelands in Afghanistan, Bhutan, China, and India . The global and HKH Mountain Partnership. Assets and Benefit Sharing of the Convention on Biodivserity Conservation. Decision Support Systems for protected area and ecosystem management with China and Pakistan. Twining between Sagarmatha National Park and a mountain national parks in Italy and Pakistan. International Mountain Day. Watershed management. The list goes on. We realized that in the last ten days, we had been in touch with every passenger on that helicopter, either officially or unofficially.
Ministers, Secretaries, scientists, and development practitioners associated with ICIMOD from Afghanistan, Austria, Bangladesh, Bhutan, Canada, China, Denmark, Germany, India, Italy, Myanmar, Nepal, Netherlands, Norway, Pakistan, Sweden, and the UK and USA are among those who have requested me to share their sorrow and condolences with you.
I had met all of these people. Some have been my Guru, my colleagues and my close friends for 10, 20, and even 32 years. I eat dal bhat with them. I even ate dhiro and sisnu ko sag with them, washed down with local moi, sucha, or rakshi. I shared their tents and their camp fires, their stories, their jokes.
As you know, these dedicated people were amazing - out of the ordinary. They spoke truth even when it was uncomfortable. They dedicated their lives to hard work even if it was not recognized. They loved life - and loved to enjoy it. They inspire us to combine compassion with trust and love of nature with love of people. They taught us how to keep learning and how to value what we have.
We salute them, each and every one. We wish them peace in the lap of the sacred Himalaya they loved so deeply. Thank you.