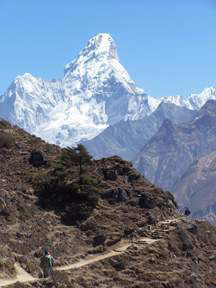 Mingma Sherpa was from the village of Khunde in the Khumbu region of Nepal, not far from the stunningly beautiful peak Ama Dablam.
From the Executive and Members of the IUCN WCPA Mountains BiomeTribute to Mingma Sherpa, Dr
26 September 2006
This tribute has been prepared by the Executive and Members of the IUCN WCPA Mountains Biome to honour the mountain conservation work and achievements of three very special WCPA mountain friends and colleagues.
Mingma Sherpa, Chandra Gurung and Narayan Poudel were tragically killed in a helicopter accident in the Kangchenjunga Conservation Area, Himalayan Mountains, Nepal, Saturday 23rd September 2006.
"They died with their boots on and in the terrain that they all loved". They were returning from an historic event, the turnover of the Kanchenjunga Conservation Area to the stewardship of the local Council. Kanchenjunga is third highest mountain in the world, and is a transfrontier mountain, a candidate for a fine transboundary conservation area.
Mingma Norbu Sherpa
IUCN WCPA Deputy Vice Chair Mountains Biome (Conservation)
Our good friend Mingma was our Deputy Vice Chair for IUCN's WCPA Mountain's Biome. He already had a full time job as Managing Director for the Eastern Himalayas Ecoregion Complex at WWF (US) when in 2004 he accepted an invitation to further champion the cause of global mountain protected area conservation as Deputy Vice Chair. He was no newcomer however to the WCPA mountains team as our previous Vice Chair for Mountains and Senior Advisor to WCPA Larry Hamilton, recounts:
"Mingma was one of the original members of 41 mountain men and women in 1991 which blossomed into the robust mountain protected area network of 510 members".
Bruce Jefferies recalls an even earlier, formative stage in Mingma's protected area management career.
"I had the privilege of working with Mingma Norbu over many years and we all still remember a visit to his mother's house in Khunde Village in the 1970's to establish Sagarmatha National Park. Mingma was selected by Sir Edmund Hilary's Himalayan Trust to study in New Zealand and he and Narayan Poudel completed courses at Lincoln University and both are still remembered by those that had contact with them"
Mingma served as the first park warden for Sagarmatha National Park and as the first project director for the Annapurna Conservation Area Project before working with WWF. Amongst his many conservation initiatives, Mingma was a champion for mountain connectivity conservation, and had worked extensively in Bhutan, Nepal, and elsewhere furthering this cause. In 2004, he delivered a key speech in Banff, Canada on the Terrai Arc connectivity conservation project in Nepal and this was prominently reported in the local Canadian press for its vision of saving the tiger, rhino and other species. At the time of his death he was actively finalising his case study contribution for a new book on "how to manage" such continental scale connectivity conservation, and this was to be presented at a workshop being held in Papallacta, Ecuador in November 2006. Co-authoring his case study with colleague Sangay Wangchuck, the title reflected his commitment to such large scale conservation with the topic "Bhutan: tropical foothills to the high Himalaya". In addition, his quiet energy was being committed to a major task of global significance for the mountains network. Supported by WWF, he was conducting a "gap analysis" of the adequacy of mountain protected areas globally, and this work was to guide IUCN mountain connectivity conservation priorities from 2007 and into the future. Mingma practised his commitment to achieve a better planet for future generations, and inspired many others with his quiet achievements. He will be sorely missed. His inspiring work will be continued.
Dr Chandra Prasad Gurung
Chandra was a special friend and energetic member of the WCPA mountains network. Like Mingma, he was one of the "original" 41 mountain members who met in Hawaii in 1991 as Larry Hamilton writes:
"I have known Chandra Gurung since 1985 when he was a graduate student at the University of Hawaii, and I was on his committee and tennis opponent. He and Mingma were original members of the small group of 41 mountain men and women who formed the Mountain Protected Area Network following a workshop on "Parks, Peaks and People" held in Hawaii in 1991. They have remained steadfast contributors to the WCPA mountain theme/Biome program since then. I have always considered them to be the most capable, dedicated and effective workers on the Himalayan scene."
Chandra was serving as WWF Country representative for Nepal. He was a pioneer and leader and a former Director of the Annapurna Conservation Area. Chandra was also at one time Executive Officer of the King Mahendra Trust for Nature Conservation. His charismatic and passionate presentation of the Terrai Arc connectivity conservation work to his Griffith University, Australia audience in 2006 was just one example of his ability to achieve support and commitment for his conservation work. He was also planning to attend the connectivity conservation workshop in Papallacta Ecuador in November 2006 to provide background about the very latest developments in Nepal's Terrai Arc project. He will be greatly missed.
Narayan Poudel
Narayan was another special friend of the mountains network and active supporter from his position as Director General of Parks and Wildlife. Larry Hamilton initiated his involvement in WCPA as he describes:
"I would also pay tribute to Narayan Poudel, whom I knew as an enthusiastic young community forestry worker back in 1993, who through hard work and effective leadership rose to the position of Director General. He will be sorely missed. I nominated him for WCPA membership"
Narayan was a leader in protected area management in the mountains and plains of Nepal.
Remembering our colleagues
We can best honour the memory of our colleagues and friends by increasing our efforts and support to create new mountain protected areas, enlarge existing ones, connect them where possible and manage them more effectively. They would be very pleased.
Prepared by the IUCN WCPA Mountains Biome executive, with thanks to Mountains Biome member Bruce Jefferies for his kind assistance.
Graeme Worboys
Linda McMillan
Fausto Sarmiento
Larry Hamilton
IUCN WCPA
Vice Chair
Mountains Biome
Deputy Vice Chair
Mountains Biome (Communications)
Deputy Vice Chair
Mountains Biome
(Capacity Building)
Senior Advisor Mountains Biome and IUCN WCPA